Pastor Bruce Elman & Suzi Elman
Everyone is welcome to our Shabbat Services, Feasts & Festivals!
Come a be a part of L'Chaim Messianic Congregation located in West Palm Beach in the beautiful Palm Beaches of Southeast Florida
REMINDER…
WE HAVE MOVED TO A NEW LOCATION!
Shabbat Services are at AGAPE WORSHIP CENTER 
1900 S. Congress Avenue
Palm Springs, Florida 33406

PLEASE BRING A BAG LUNCH. 
 L'CHAIM WILL PROVIDE the COFFEE AND A SWEET TABLE!
All are welcome to our Shabbat Services, Feasts & Festivals!
Join us every Saturday at 11:00 AM for a wonderful time of worship and powerful Biblical preaching followed by Oneg (fellowship meal), Bible Study & Hebrew Classes!
(thru age 13) meets every Saturday morning at 11:00 AM. Don't miss our wonderful new CHAI (LIFE) curriculum that we're teaching the children! They're learning all about the Messianic Festivals and Feasts while we celebrate them throughout the year!
Please join us for L'Chaim's TORAH STUDY in Spanish
every Shabbat following the ONEG!
For more info – please call 561-350-6964
Sisterhood meets every other Wednesday!
December Schedule: 5th, 12th & 19th
Time: 12:30- 2:00 PM
Where: Agape Worship Center
1900 S. Congress Ave., Palm Springs,
FL 33406
Please call Suzi for more info:
561-703-8687
Click here for more Sisterhood info!
When: Every Thursday at 1:00 – 2:30 PM
Where: Tom Sawyers Country Restaurant
3208 Forest Hill Blvd, West Palm Beach, FL 33406

Please call Midge for more Info:
‭(561) 373-4697‬
Dance practice meets every other Tuesday!
December Schedule: 11th
Time: 5:00 – 7:00 PM!
Where:
 Agape Worship Center
1900 S. Congress Ave., Palm Springs,
FL 33406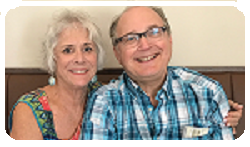 L'Chaim means "to LIFE!" and we pray that you find LIFE in Yeshua,
the Messiah, the Way, the Truth, and the LIFE!
L'Chaim Messianic Congregation is a Congregation of Jews and non-Jews who believe Yeshua (Jesus) is the promised Messiah of Israel.
We exist to reach the local, pre‑believing Jewish people with the fact that Scripture is God's inspired and true Word; that Yeshua is the Risen Messiah of Israel, and that an abiding faith in Him is His only provision for eternal life in Heaven with the Lord.
L'Chaim Messianic Congregation has been faithfully serving West Palm Beach and the greater Southeast Florida Palm Beach County community since 2003.
Please join us for our weekly Shabbat (Saturday) Service, held at New Life Alliance Church, in West Palm Beach Florida. During the Service, we include appropriate elements from traditional Jewish Services – including liturgical prayers and reading from the Hebrew Scriptures (Torah), with Messianic Praise, Worship, and Dance as we are led by the Ruach HaKodesh, the Holy Spirit.
Our Congregation Leader, Bruce Elman, then shares an encouraging message from the Word of God, and explains how it applies to our lives. Following Services we gather for the Oneg Shabbat lunch, fellowship, Bible study and Hebrew classes.