Encouraging Words with Pastor Bruce & Suzi Elman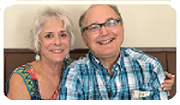 Our Abba FATHER desires to be involved in every aspect of our life. He gives clear direction in His Word so that we can understand what His will is for every circumstance we encounter! By walking in the center of GOD'S will, we accomplish that which we were created to do. Inevitably, we also experience life at it's best!                                     
As imperfect humans, we will not automatically be in GOD'S will, and so we must make an effort to seek His way and live according to Biblical precepts. 
GOD is immutable! He is not going to change to suit us. That means we must make whatever adjustments are necessary in order to be obedient to His Word.
Colossians 3:1-2
Since you have been raised to new life with MESSIAH, set your sights on the realities of Heaven, where MESSISH sits in the place of honor at God's right hand. Think about the things of Heaven, not the things of earth.                    
GOD directs all believers in the way we are to go because He is perfect in all wisdom and knowledge and always knows what is best for us at all times. Only obedient living makes it possible to attain genuine fulfillment!
Love & Blessings,
Pastor Bruce and Suzi Elman
L'Chaim Messianic Congregation