Encouraging Words with Pastor Bruce & Suzi Elman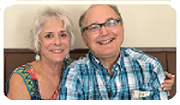 Paul taught us a lot about triumphing over adversity (2 Corinthians 1), and even though his culture of that day was quite different from ours, some things remain the same, like temptation, hardship, persecution and sin!
Satan never changes either!
Paul learned to trust the LORD during affliction in the same way we do. He was thrown into high-pressure situations with impossible odds, yet saw GOD triumph!
We understand divine power when we reach the limits of our own strength and see GOD'S supernatural power kick in! We have GOD'S promise that He will meet our needs in every heartache and trial.
Philippians 4:19
And my God shall supply all your needs according to His riches in MESSIAH YESHUA.
GOD'S strength is available to all believers who in time of need confess their weakness and inadequacy! 
Let's pray:
ABBA, I absolutely cannot; if you don't, it is simply not going to happen. In YESHUA'S Name, amen!
With lots of prayers & love,
Shalom!
Pastor Bruce & Suzi Elman
L'Chaim Messianic Congregation
2116 Lantana Road, Lake Worth, FL 33462