Encouraging Words with Pastor Bruce & Suzi Elman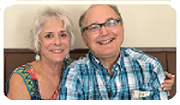 Some people become so involved in ministry that they overlook their own family members and friends! In today's verse we see the LORD makes it very clear that we are not to neglect one in order to attend to the other!
GOD is saying that we are not to only meet the needs of those around us in the world (the poor, needy and disadvantaged), but that we are also to meet the needs of our immediate family!
The Word of GOD tells us not only to feed the hungry and clothe the naked, but that we must also not hide ourselves from the needs of our own flesh and blood!
Isaiah 58:7
"It is not to share bread with the hungry, and that you bring to your house the poor who are cast out; when you see the naked, that you cover him, and not hide yourself from your own flesh."
If you read on to the next verse, Isaiah 58:8, GOD is telling us to do things in His order, and if we do, then blessings and prosperity will follow! 
PTL!
With lots of prayers & love, shalom!
Pastor Bruce & Suzi
L'Chaim Messianic Congregation
Lake Worth/Lantana Florida