Encouraging Words with Pastor Bruce & Suzi Elman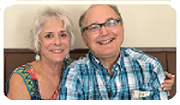 If we want to be victorious in our  walk with the Lord, then we must never forget who our adversary is! Scripture is very clear that our enemy isn't a single little demon but rather a whole confederacy of evil spirits!                                    
How many times in the gospels did YESHUA cast out demons? Over and over again, we read about Him and His disciples speaking with authority over multiple evil spirits. 
Why, then, can we read such accounts and praise GOD for His demonstrations of power yet forget that those demonic forces are still active in our world today? 
You may say, "Well, I can believe only in what I can see." If that's true, then you are in serious trouble because there is a real enemy roaming about (satan)!
1 Peter 5:8
Be sober, be vigilant because your adversary the devil walks about like a roaring lion, seeking whom he may devour.                 
 Do you take your spiritual enemy seriously? Never forget our enemy is roaming around looking for someone to devour; always be on the lookout!
Love & Blessings,
Pastor Bruce & Suzi Elman
L'Chaim Messianic Congregation
Lake Worth, FL (Lantana area)