Encouraging Words with Pastor Bruce & Suzi Elman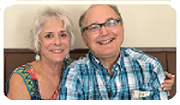 In the Word, we read stories about GOD speaking to His prophets, and He still speaks to us today the same way! We need to listen for that small, still voice; don't let the busyness of this life keep you from hearing from Him.
The first time He spoke was through the power of the RUACH HAKODESH (Holy Spirit) leading us into salvation. That was just the beginning! If we listen carefully, He will call us to sanctification (being set apart by Him and for Him). He will continually remind us to use His power and resources so we can obey and live righteously. 
Then He calls us to service, giving us abilities, time, and resources for the good works He wants us to accomplish for His Kingdom.
Ephesians 2:10
For we are His workmanship—created in Messiah Yeshua for good deeds, which God prepared beforehand so we might walk in them.
Then He calls us to accountability. One day, we will have to give an account of how we used the resources He gave us!

Romans 14:12
So then each of us shall give an account of himself to God.     
Has life become so hectic that GOD'S voice is inaudible? Especially with all the craziness of today, we need more than ever to give ourselves time to hear GOD speaking to us through His Word and in our prayer closets! During this time on Earth, we all need guidance and wisdom from above! 
With lots of prayers & love,
Shalom!
Pastor Bruce & Suzi Elman
L'Chaim Messianic Congregation
2116 Lantana Road, Lake Worth, FL 33462