Encouraging Words with Pastor Bruce & Suzi Elman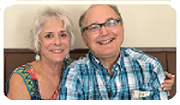 How does our enemy operate? I believe he has many objections when it comes to interrupting GOD'S work in our lives!  One of them is how Satan wants us to doubt GOD'S Word! If he can get someone doubting just a little bit, then he has secured a foothold in that person's life. 
This is what happened in the Garden of Eden, when he planted that seed of doubt in Eve's mind. Look at the results that affected all mankind (Gen. 3:1). 
He will do anything to keep us from making an impact for MESSIAH in this dark fallen world ! 
Then he wants to destroy us physically (sickness, addictions and stress)! He wants us to focus on our bodies so we don't have time to focus on spiritual things and working for the Kingdom of GOD!
Ephesians 6:12
For we do not wrestle against flesh and blood but against principalities, against powers, against the rulers of the darkness of this age, against spiritual hosts of wickedness in the heavenly places.
Satan is always looking for ways to destroy you. Don't let him! 
Keep your spiritual eyes open. And always depend on GOD'S Spirit to guide you.
Love & Blessings,
Pastor Bruce & Suzi Elman
L'Chaim Messianic Congregation
Lake Worth, FL (Lantana area)