Encouraging Words with Pastor Bruce & Suzi Elman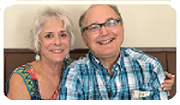 Therefore I am well content with weaknesses, with insults, with distresses, with persecutions, with difficulties, for Messiah's sake; for when I am weak, then I am strong.
If you are suffering from a disease, an injury, or a chronic medical condition, you may wonder if you can ever be healed. The Bible has good news for you!
While doctors and medicine are a gift from God, His power is infinitely greater than any human wisdom or prescription. In fact, "He is able to do immeasurably more than all we ask or imagine, according to His power that is at work within us." (Ephesians 3:20).
Throughout the Bible, God encourages us to call upon Him for healing. He says in Exodus 15:26, "I am the LORD who heals you," and we call Him "Jehovah Rapha" because He is the God Who heals. Psalm 103:2-3 says, "Praise the LORD, O my soul, and forget not all His benefits – who forgives all your sins and heals all your diseases."
Some think that miracles no longer occur, citing 1 Corinthians 13:8. However, this passage refers to the return of Messiah Yeshua. When He comes again, we will no longer need prophecies, tongues and miracles because we will be in His presence.
Until then, the anointing, power and gifts of the Ruach Ha Kodesh are readily available to help us in every situation!
God's Word reveals how deeply He loves His children and wants us to have health and wholeness. 1 John 4:8-9 says: "God is love. This is how God showed His love among us: He sent His one and only Son into the world that we might live through Him." Yeshua said, "I came that they might have life, and have it abundantly" (John 10:10, NASB). Throughout His life, Yeshua demonstrated what abundant life means for His followers – including us today! As you pray, come against the enemy and resist satan in Yeshua's Name. Because of Yeshua's sacrifice on the cross, we can enter God's presence and boldly make our requests. Hebrews 4:16 says, "Let us then approach the throne of grace with confidence, so that we may receive mercy and find grace to help us in our time of need."
We simply approach God with our petitions and trust Him for the answers in accordance with His perfect will for our lives. Remember that God's blessings may include medicine and professional medical help. Romans 8:28 promises, "In all things God works for the good of those who love Him, who have been called according to His purpose." No matter what we face, God is with us! "Who shall separate us from the love of Messiah?"
In Yeshua's wonderful matchless name,
Love & Blessings,
Pastor Bruce and Suzi Elman
L'Chaim Messianic Congregation