Encouraging Words with Pastor Bruce & Suzi Elman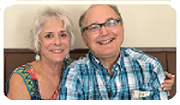 Through MESSIAH and the power of the Holy Spirit, GOD wants to speak to us on a one-on-one basis everyday! He wants to lead us step-by-step to the good things He has in store for us! He cares about the tiniest details of our lives. He even keeps track of how many hairs we have on our head (Matt. 10:30).
But sometimes we choose to turn a deaf ear to what we know the LORD is clearly saying to us. We only hear what we want to hear! You could call that "selective hearing." 
We desperately need to get in His presence in prayer and mediation of His Word spending time with Him and then take the time to be still so He can speak to us! He is ready to fill your heart with His thoughts and the goals He has for you to live a victorious life in MESSIAH 
John 2:5
His mother said to the servants, "Whatever He says to you, do it."                         
When GOD created us, He gave us two ears and one mouth; there was a reason! Let this be the day you start listening to that still, small voice (the Holy Spirit, who dwells in us). Abundant blessings will follow!
Love & Blessings,
Pastor Bruce and Suzi Elman
L'Chaim Messianic Congregation