Encouraging Words with Pastor Bruce & Suzi Elman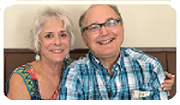 In John 13, we see the premier example of servanthood as YESHUA washed the disciples' feet! Remember, back then everyone wore sandals and the roads were not paved (just dirt), so by the end of the day everyone's feet were really dirty.
YESHUA offered to wash their feet to teach them a great lesson (John 13:8). YESHUA clearly explains in verses 13 to 17 that we must do things for each other, otherwise, we are really not part of one another. The things we do to serve one another are the things that bind us together. YESHUA was able to wash their feet because He was free; only a person who is truly free (not insecure) can do menial tasks and not feel insignificant as a result. Serving others is not typically viewed as a high position, yet YESHUA said it is the highest of all.
John 13:5
After that, He poured water into a basin and began to wash the disciples' feet and to wipe them with the servant's towel with which He was girded.
The purpose behind being a servant is to show others the love of GOD that He has shown us! How can you serve someone today (showing the love of the FATHER)?
With tons of prayers, love & hugs, 
Shalom! 
Pastor Bruce & Suzi Elman
L'Chaim Messianic Congregation