Encouraging Words with Pastor Bruce & Suzi Elman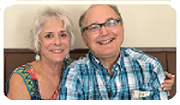 Most of us desire to be used by GOD. We would live our lives to touch others in a positive way. In order to do that, GOD has to prepare us first. Some things might have to change; don't be afraid of that word—change!                                
We might need to stop thinking and speaking negatively and start being positive! Let's get out of our comfort zone and step out of the boat; stop procrastinating and look for new opportunities that arise. 
Our "promised land" is there for us to take possession of. 
GOD is so good. He is willing to lead us through our wilderness into that promised land. All we have to do is yield to the leading of the Holy Spirit, and then watch GOD bring about positive changes in us as He prepares to use us for Kingdom work so we can bless others!
Psalm 143:8
Cause me to hear your loving kindness in the morning, for in you do I trust; cause me to know the way in which I should walk, for I lift up my soul to you. 
No matter what your situation or circumstances, we can choose to change and keep a positive attitude. As the Holy Spirit leads us, let's take one step at a time, one day at a time. 
And let's never give up; keep on keeping on!
Love & Blessings,
Pastor Bruce and Suzi Elman
L'Chaim Messianic Congregation