Encouraging Words with Pastor Bruce & Suzi Elman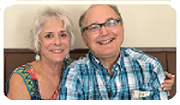 At times, people will say, "I've made YESHUA a part of my life." But this statement reveals that they have missed the point. The truth is, YESHUA can never be simply a "part of life." At the time of salvation, YESHUA becomes our life—everything revolves around Him because He should be our central focus!
For the believer, the essence of living is to walk in childlike obedience to MESSIAH. That means we express His righteous life simply by faith. To do this, we depend on the power of the Holy Spirit for the ability and His divine grace for forgiveness when we stumble. Because we live in this world, there is always a constant conflict—the world's way or GOD'S way!
Romans 12:2A
And do not be conformed to this world, but be transformed by the renewing of your mind.
The way this is done, "renewing our mind" is by opening GOD'S Word on a daily basis and then letting Him use Scripture to flush our minds of anything that doesn't fit into His priorities!
Love & Blessings,
Pastor Bruce and Suzi Elman
L'Chaim Messianic Congregation