Encouraging Words with Pastor Bruce & Suzi Elman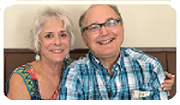 Continuing on with our battle over the flesh, we absolutely need to be feeding our spirits every single day, which means spending time in prayer and in the Word of GOD. As a result, we will learn to think like GOD thinks and say what GOD says!
Instead of thinking and talking about how bad things have been and are presently, we need to be imitating GOD.                       
For instance, if you have a loved one who's never come to YESHUA, to accept Him as Savior, don't declare, "They will never come to YESHUA. They are a lost cause!" 
Instead, declare, "LORD, I know it's YOUR will my loved one get saved, so I claim their soul for your kingdom. What seems impossible to me, is possible with you (Matt.9:26)! 
Let's not be negative, let's line our thinking up with GOD'S Word!
Romans 4:17B
God gives life to the dead and calls those things which do not exist as though they did.
Get into the Word and write down Scripture that cancels out the negative things you are experiencing. Begin to memorize the promises of GOD and speak them out loud when you feel overwhelmed! Pray and say what GOD'S Word says.
With lots of prayers & love,
Shalom!
Pastor Bruce & Suzi Elman

L'Chaim Messianic Congregation
2116 Lantana Road, Lake Worth, FL 33462