Encouraging Words with Pastor Bruce & Suzi Elman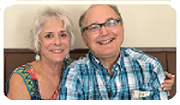 We all need a heart revelation of GOD'S true love for us! We can't just know in our head that GOD loves us. It must become a life-changing heart revelation!
Through this revelation, we can have freedom from fear. When our circumstances are good, it's not hard to believe GOD loves us. But when things turn for the worst, we are tempted to think He doesn't care! 
Then fear comes against our mind and attempts to rob us of our faith. And Satan will do his best to assure us that GOD'S love isn't there for us. He'll plant lies in our minds; "You must have done something wrong, or GOD'S mad at you now!"
When we have a heart revelation of GOD'S perfect love, there is nothing in the world that can make us afraid!
1 John 4:18
Such love has no fear, because perfect love expels all fear. If we are afraid, it is for fear of punishment, and this shows that we have not fully experienced his perfect love.                        
It is impossible to fear failure, rejection, lack or anything else if you really know GOD loves you; His love covers everything!
Love & Blessings,
Pastor Bruce & Suzi Elman
L'Chaim Messianic Congregation