Encouraging Words with Pastor Bruce & Suzi Elman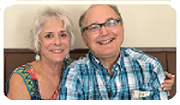 The apostle Paul said that we are seated in heavenly places with Messiah YESHUA as a child of GOD! So what does that mean? What do we do when we sit? We rest, right! So to be seated in heavenly places with YESHUA is to enter an inner rest!
When we get nervous or upset about our problems and worry overtakes us, we need to tell ourselves "to sit down!" And we're not just talking about our physical body but also our soul (mind, will and emotions)! To me it's very interesting, how we now have no choice but to sit and rest In this season of being homebound during the Coronavirus pandemic.
It's important to let our entire being rest and just wait on GOD. We need to wait expectantly for GOD to do what we cannot do! Give Him the steering wheel!
Ephesians 2:4-6
But God, who is rich in mercy, because of His great love with which He loves us, even when we were dead in trespasses, made us alive together with MESSIAH and raised us up together and made us sit together in the heavenly places in MESSIAH YESHUA.
The promises of GOD'S peace are not made to those who work, struggle or strive in their own strength but to those who enter GOD'S rest waiting on Him!
Let's thank God for this time of REST! It's necessary and long overdue!
All our love,
Bruce and Suzi Elman
L'Chaim Messianic Congregation
Lake Worth & Lantana Florida Area