Encouraging Words with Pastor Bruce & Suzi Elman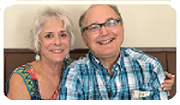 In our  verse today, YESHUA is encouraging us to speak to our mountain, not about our mountain! Yeshua is instructing His disciples to pray the will of GOD ( the Word) over their problems. Speaking the Word of GOD is powerful and absolutely necessary in conquering our mountains! But this has got to be accomplished by our obedience to GOD'S Word. Obedience is equally important.
If a person thinks he or she can live in disobedience yet speak GOD'S Word to their mountain and get results, YESHUA is telling us we will be sadly disappointed! For instance, there is no power in speaking to a mountain if our hearts are full of unforgiveness (Mark 11:25–26). Let's see what YESHUA had to say!                                          
Mark 11:23
"For assuredly I say to you, whoever says to this mountain, 'Be removed and be cast into the sea' and does not doubt in his heart, but believes those things he says will be done, he will have whatever he says."
We can not operate under one of GOD'S principles while completely ignoring another. Let's ask for help from the Holy Spirit to understand the whole counsel of the Word so that we can be living a victorious life as believers!
Love & Blessings,
Pastor Bruce and Suzi Elman
L'Chaim Messianic Congregation
Lake Worth/ Lantana FL