Encouraging Words with Pastor Bruce & Suzi Elman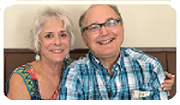 But my God shall supply all your needs according to His riches in glory by Messiah Yeshua!
Philippians 4:19
We have God, as our Father, who is able to provide for us with ease. This is why we do not panic when troubling situations come. Think of all the troubling situations that have come your way these past 6-7 months with this Covid-19 pandemic scourge on the earth. This is all in the past now. This shows you that God will always settle your situations, no matter what. Your only focus should be trusting in God. Nothing else.
Prayer:
Dear God, I thank You that I can move in this life freely knowing that all I need has been met. I do not count any troubling situations as life-defining because you will always get me through them.
Thank you, Lord. 
In Yeshua's name, I pray. Amen.
Love & Blessings,
Bruce and Suzi Elman
L'Chaim Messianic Congregation