Encouraging Words with Pastor Bruce & Suzi Elman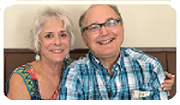 Every morning when we open our eyes, we are at war! According to Scripture, spiritual warfare is a certainty, and yet hardly anyone takes it seriously! However the Word is clear that each day we wake up to a real personal battle we must fight!
Failure to recognize this results in painful defeat time and again. Dedicated Believers go about being confused and frustrated because they continually experience failure in their spiritual lives! Just when they think they have a temptation conquered, it rises back up to defeat them once again. The enemy catches them completely unaware; they go about their days without a single thought to the war being waged in their lives.
Satan never gives up!
John 16:33
These things I have spoken to you, that in Me you may have peace. In the world you will have tribulation; but be of good cheer, I have overcome the world.                
We are at war, and it is a fight for our lives, not our physical lives but our spiritual lives. 
I challenge you to watch for spiritual attacks. When you are aware of the truth, they are easy to spot! That is one reason why it is extremely important to meditate on the Word as much as you can!
Love & Blessings,
Pastor Bruce & Suzi Elman
L'Chaim Messianic Congregation
Lake Worth, FL (Lantana area)