Encouraging Words with Pastor Bruce & Suzi Elman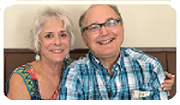 Thanksgiving is a great time to express gratitude toward our heavenly FATHER, but it shouldn't be the only time of the year we do so!   If we're honest about it, most of us will discover that our prayers are often more self-centered than we'd like to admit!
It's easy to take for granted and even forget the many blessings GOD has given us and instead focus on the things we want from Him.  
But giving real thanks to our LORD is one of the most important priorities in the believer's life.  Giving thanks to our heavenly FATHER honors Him, focuses our attention on Him instead of the world's demands and refreshes our relationship with Him while rejuvenating our spirits!
Psalm 92:1-2
It is good to give thanks to the Lord and sing praises to your name , O Most High; to declare your loving kindness in the morning and your faithfulness every night.
Giving thanks is something we can do any time and any place! 
Why not take a few moments right now to reflect on the greatness of GOD and the gifts He has given us. Let's begin every day with a song of praise with gratitude in our hearts.
We pray for abundant blessing to be upon you and your loved ones this Thanksgiving celebration! Yes! "PTL!"
 In Yeshua's Name. Amen.
Love & Blessings,
Pastor Bruce and Suzi Elman
L'Chaim Messianic Congregation