Encouraging Words with Pastor Bruce & Suzi Elman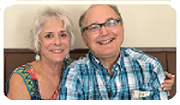 Do you know GOD made you special?

There is no one else on the earth like you with your unique mix of gifts, talents and traits! GOD, our FATHER, didn't make you to be superior or inferior. He created you to be unique and to fulfill His specific 
A blessed day to you from Pastor Bruce & Suzi!
No matter what has happened to you in your lifetime (even if you have been abandoned by your spouse or abused as a or hurt by a loved one and friends), if you will stay on the path which GOD leads you on and be willing to leave your past behind, you will find peace, joy and fulfillment! As you walk through this process, you CAN find comfort in GOD'S promise from today's Scripture to guide you.
YESHUA is the way, and He has shown us the way in which we are to walk. The LORD has given us His Holy Spirit to lead and guide us in the way we are to go, that narrow path that leads to life, turning from the broad way that leads to destruction (Matt. 7:14).
Isaiah 30:21
Your ears shall hear a word behind you, saying, this is the way, walk in it, whenever you turn to the right hand or whenever you turn to the left.
Get in the presence of almighty GOD and listen for His voice to lead you in the way you should go. Continue doing what is right as the Holy Spirit leads you and keep walking on the path that leads to life and blessings will flow!  Yes!, in Yeshua's Name. Amen.  With lots of prayers and love, shalom! Pastor Bruce & Suzi!.
Love & Blessings,
Bruce and Suzi Elman
L'Chaim Messianic Congregation