Encouraging Words with Pastor Bruce & Suzi Elman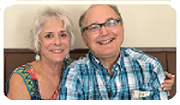 Conflict is a part of life. It could come from misunderstandings, difference of opinion or deep convictions! It usually stems from envy, pride or even hunger for power. Even though we are not responsible for the other person involved, we are held accountable for how we handle it! 
Sadly, many people have an unhealthy response to disagreement! Unless we respond correctly to conflict, we limit our potential to grow in our  faith walk. We can develop an unforgiving spirit, which will lead to bitterness and resentment. Then relationships can be destroyed completely. 
We need to handle our conflicts in a positive way. YESHUA was wrongly accused, unfairly judged and killed for something He didn't do, yet look how He responded.
Let's read our Scripture for today and see what He did say.
Luke 23:34A
Then YESHUA said, "Father forgive them for they do not know what they do."
How do you deal with accusations and criticism? Forgiveness is the only response that will keep you from becoming a victim of bitterness!
Love & Blessings,
Pastor Bruce & Suzi Elman
L'Chaim Messianic Congregation
Lake Worth, FL (Lantana area)