Encouraging Words with Pastor Bruce & Suzi Elman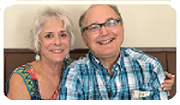 If you feel guilty about sins from your past, our Scripture today has a blessed assurance for you!                                      
Paul addresses the Corinthian believers who too were struggling with these doubts about past sins as believers of today still do! But we serve a merciful GOD, and the Word tells us in 1 John 1:9 "If we confess our sins, He is faithful and just to forgive us."
Until we understand how the LORD forgives and removes sin, we will carry the guilt! 
Forgiveness is based only on the shed blood of YESHUA. He bore our sins on the ROMAN STAKE and died in our place. When you acknowledge that He alone can make you righteous before GOD, then you will be set free.  (There is no condemnation to those who are in MESSIAH YESHUA (Read Romans 8:1).
1 Corinthians 6:11
But you were washed; but you were sanctified, but you were justified in the name of the Lord YESHUA and by the Spirit of God.
Do you wake every morning facing another day carrying around all that guilt? 
STOP!
The LORD is waiting to take that load off your shoulders, and He will cast it as far as the east is from the west!
Receive His amazing grace of forgiveness today by accepting YESHUA as your Savior and Lord of your life, and don't wait another day; do it today. 
Today is the day of salvation!
With lots of prayers & love,
Shalom!
Pastor Bruce & Suzi Elman
L'Chaim Messianic Congregation
2116 Lantana Road, Lake Worth, FL 33462