Encouraging Words with Pastor Bruce & Suzi Elman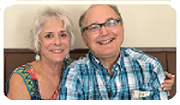 When conflict arises, we oftentimes want to rush in and defend our position. Perhaps we even feel justified in blaming others.
James 1:19 gives different advice for dealing with tension and disputes. James tells us to "Be quick to listen, slow to speak and slow to anger." In other words more can be accomplished through a calm approach and a quiet spirit to any situation.
Always pray first, and ask the LORD to give you the right words to say. And ask for discernment concerning the root issue to whether or not it might be our fault for the dispute?
If you have done something wrong, then you should apologize and ask for forgiveness! YESHUA died to pardon us of all our sins, so we in turn should forgive others as we are forgiven!
Proverbs 26:4
Don't answer the foolish arguments of fools, or you will become as foolish as they are.
How do you respond to conflict? 
Pray for the Holy Spirit to give you strength to stay calm and do what is right, even during difficult, emotional situations! 
The Holy Spirit will never lead you in a wrong direction!
Love & Blessings,
Pastor Bruce & Suzi Elman
L'Chaim Messianic Congregation
Lake Worth, FL (Lantana area)