Encouraging Words with Pastor Bruce & Suzi Elman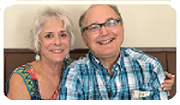 Even though the Bible clearly states that every believer receives a spiritual gift, some nevertheless think they were overlooked. So they go through life as a Messiah Follower refusing to serve. 
Others are so busy wishing they had a different ability that they do not use the one given to them by the Holy Spirit! Both of these attitudes are sinful!
GOD has a specific purpose and ministry for every believer! Our spiritual gifts help us fulfill GOD'S master plan. He always has a purpose for handing out our spiritual gifts. We're to use our gifts for equipping, edifying and encouraging one another (Ephesians. 4:11-13) and for bringing the lost into the Kingdom. 
Everyone profits when we do GOD'S work through the power of the Holy Spirit!
1 Peter:4:10
As each one has received a gift, minister it to one another as good stewards of the manifold grace of God. 
Each one of us has important work to do for the Kingdom. We have no excuses for bypassing GOD'S will! Where He has gifted us, He will also provide strength and courage to exercise those gifts!
With lots of prayers & love,
Shalom!
Pastor Bruce & Suzi Elman

L'Chaim Messianic Congregation
2116 Lantana Road, Lake Worth, FL 33462