Encouraging Words with Pastor Bruce & Suzi Elman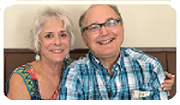 Having an attitude of peace and calmness is priceless! It's an attitude that says, "I'm trusting GOD!" It speaks powerfully to the people around us! 
We need peace and calmness more now than ever before, living in times such as this! 
One way to develop consistent peace is to learn to live "in the now." We need to let go of the past and not be concerned about what the future holds! Our minds need to be focused on today. 
The Bible tells us that our heavenly FATHER gives us just enough grace for each new day while here on this world! That grace (GOD'S unmerited favor) is the power enablement or energy to do what we need to do for the Kingdom of GOD!
2 Corinthians 9:8
And God is able to make all grace abound toward us, that you, always having all sufficiency in all things, may have an abundance for every good work.
So, we need to learn to trust GOD "in the now" and receive His grace that we need for each and every new day! He gives us a new supply with every sunrise! 
Let your life be a message of peace in your corner of the world, and let your light so shine for YESHUA, our LORD & SAVIOR! 
We are His representatives here, and people are watching us!
Love & Blessings,
Pastor Bruce and Suzi Elman
L'Chaim Messianic Congregation