Encouraging Words with Pastor Bruce & Suzi Elman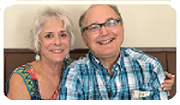 We wanted to share this – INSPIRED BY PASTOR RAY PRITCHARD
Here is a short summary of  DANIEL 9:24-27.
God has determined 70 weeks of years for the Jewish people. The first 69 weeks of years ended just before the death of Messiah. In the future God will once again deal with Israel during the final 70th week, a period we call the Tribulation. When that terrible time comes to an end, the six great blessings of verse 24 will be fulfilled to Israel and Messiah will establish his kingdom on the earth.
PRAYER:
ABBA, it is exciting to consider these ancient words and to realize that part of this prophecy is yet to be fulfilled. So much has been confirmed by history and the rest seems to be coming closer day by day. Forgive us for dabbling in the world when we ought to be living serious lives for you. Grant that we might be filled with joy as we contemplate the soon coming of the Lord Yeshua Messiah. May we all live to hear the shout and the trumpet call of God when the Lord returns for his own. Until then, we pray that you would use us to point many people to Yeshua, in whose name we pray, Amen.
Love & Blessings,
Bruce and Suzi Elman
L'Chaim Messianic Congregation