Encouraging Words with Pastor Bruce & Suzi Elman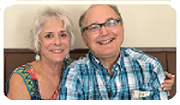 I am sure you are familiar with the parable of the unjust servant.  The servant in this story owes the king a lot of money, but when he begs the king for mercy and promises to pay it all back if he will just give him a little more time, the king forgives the debt.  
Then the servant sees another servant who owes him a little bit of money (nowhere near the amount he owed the king!), and he demands that the servant pay him back immediately. When the servant begs for more time, he refuses and has him put into prison until he can pay back the full amount.  
The other servants are horrified at his behavior and tell the king what has happened.  The king calls in the servant and has him turned over to the "tormentors" until he can pay back the full amount.  
Any offense against God is a major offense, and yet God has forgiven us, and forgives us over and over again.  We pray the model Prayer asking God to forgive us AS we forgive others.  I'm not sure we mean it.  
Is there someone we still can't forgive?  I'm not saying anything about forgetting.  Have we asked God to help us forgive?  The problem here is that a lack of forgiveness does nothing for the person not forgiven, but it can keep us from moving on in life spiritually healthy.  In our families, it can keep brothers and sisters or  parents and children apart, causing problems for generations.  Let us be more like the King and less like the unworthy servant. 
PRAYER:
Loving and forgiving God, sometimes there are people in our lives who have hurt us deeply and whom we find it hard to forgive.  Please help us to forgive so that we may have peace in our hearts.  In Yeshua's Name. Amen. 
With lots of prayers & love,
Pastor Bruce and Suzi Elman
L'Chaim Messianic Congregation