Encouraging Words with Pastor Bruce & Suzi Elman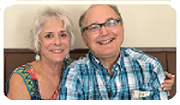 GOD'S goal is for us to grow up in Him. He doesn't want us to stay a baby Believer!
He wants us to become a mature overcomer and being an overcomer means learning how to walk after the Spirit and not after the flesh!
As long as we're letting our flesh rule us, we're not free and if we're not free, we're not enjoying a life of freedom!
We must realize that we all have to deal with our flesh for as long as we live and we're going to have a choice to sow to the flesh or sow to the Spirit! We're never going to become so spiritual that our flesh never gives us trouble. The flesh will always want control.
However, if we submit ourselves to GOD daily, He will break the power of our flesh and change us.
Romans 13:14 "But put on the Lord YESHUA MESSIAH and make no provision for the flesh, to fulfill its lusts…"  
We cannot defeat the flesh with the power of the flesh, but by yielding to the power of GOD'S Spirit, we can live dead to sin and alive in  MESSIAH and then enjoy the life of freedom that YESHUA died to give us!
Love & Blessings,
Bruce and Suzi Elman
L'Chaim Messianic Congregation