Encouraging Words with Pastor Bruce & Suzi Elman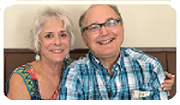 Today is the "father of tomorrow," meaning what we are today is the result of how we have been thinking and have lived in the past.
If we save wisely today, we'll have plenty tomorrow, but spend everything today and have little or nothing for the future! Today's Scripture tells us we will reap what we sow.
Example: you can't plant crabgrass and expect to harvest pineapples; nor can we sow disobedience to GOD and His Word and expect to reap His blessings! Look at a apple tree and you'll realize planting a single seed can yield thousands of seeds. Just the same, a small decision to do either good or bad reaps much bigger crops, either for joy or sorrow!           
Galatians 6:7 Do not be deceived, God is not mocked; for whatever a man sows, that he will also reap.
Keep in mind, unlike agriculture, life's harvests do not have predictable schedules for ripening! We reap some crops quickly while others take a long time, but do not be deceived, their season will come! Be faithful in all situations and your harvest will come! We serve a faithful GOD who always keeps His promises.
Love & Blessings,
Bruce and Suzi Elman
L'Chaim Messianic Congregation