Encouraging Words with Pastor Bruce & Suzi Elman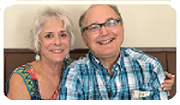 As followers of YESHUA, we are to pray to ABBA when we desire or need something (Philippians 4:6). But sad to say, many of GOD's children fail to do so. 
Why?
Some are "too busy" to take time to pray; others talk to the LORD in a general or mechanical way (memorized prayer) without the genuine heartfelt communication ABBA desires.
MESSIANIC BELIEVERS should come humbly before GOD's throne bringing requests with a submissive spirit—meaning we are to seek GOD's will above all else, even above what we think is best because He could have something better in mind! 
The Scriptures tells us to approach the throne room with confidence and faith (Hebrews 4:16). 
When we pray and seek God's will (not ours), we should anticipate that He will answer us!
Psalm 145:18
The Lord is near to all who call upon Him, to all who call upon Him in truth.
ABBA FATHER desires to pour blessings into the lives of His children. Don't allow lack of prayer to prevent His best! Go to Him with your needs and wants with confidence and giving Him all praise! Then submit your will to His and see His faithfulness unfold!
Love & Blessings,
Bruce & Suzi Elman
L'Chaim Messianic Congregation