Encouraging Words with Pastor Bruce & Suzi Elman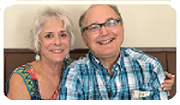 Because we consider certain emotions and behaviors harmless, we don't pay much attention to them. In fact we regard some attitudes as "normal!" We just assume everyone feels them from time to time. One good example is discouragement. Some people view discouragement and disappointment as the same thing, but this is a misconception!
Since we cannot have success every time we try something, there is no way to avoid all disappointments in life. But we can avoid all disappointment; it's a choice we make when we decide whether or not we will allow our times of disappointment to destroy our confidence. That's exactly what discouragement is—a complete lack of confidence, a feeling of dismay!
Joshua 1:7
"Be strong and very courageous. Be careful to obey all the instructions Moses gave you. Do not deviate from them, turning either to the right or to the left. Then you will be successful in everything you do."
This verse tells us to be strong and courageous. If you are without courage, ask GOD to wipe away your fears and remind you of His mighty power.
Love & Blessings,
Pastor Bruce and Suzi Elman
L'Chaim Messianic Congregation
Lake Worth, Florida