Encouraging Words with Pastor Bruce & Suzi Elman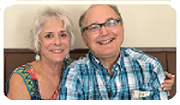 When we allow doubt and unbelief to take root in our minds and then begin to speak negatively about our circumstances, we then hinder our prayers. We cannot pray and ask GOD to move in our situations and then speak something negative! When we pray and ask GOD to do something, we shouldn't turn around and say, "I'm afraid GOD will not come through for me." That is a negative confession!
The words we speak are containers for power; they carry either a life-giving force or a destructive force! Don't ever underestimate the importance of our words because they truly can make a difference in our circumstances and in our prayers! 
Remember the words we speak represent who we are because they reveal what is in our hearts.
Matthew 12:34
Proverbs 18:21
Death and life are in the power of the tongue and those who indulge in it shall eat the fruit of it.
When GOD hears a prayer followed by a negative confession, He does not respond. But when He hears a prayer that is accompanied with words that express confidence in Him, He delights to answer!
Love & Blessings,
Bruce and Suzi Elman
L'Chaim Messianic Congregation