Encouraging Words with Pastor Bruce & Suzi Elman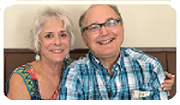 When you wake in the morning, praising FATHER GOD for the gift of a new day, the sunrise, a new beginning should fill your heart with love overflowing for our ABBA FATHER! 
Our Scripture today tells us to be glad and always rejoice!
YESHUA came to give us life and to give it to us more abundantly! Let's enjoy life to the fullest and walk in it and experience what YESHUA died to give us. 
Many people in our world today are goal-oriented, but we should not be so focused on tomorrow that we fail to appreciate, enjoy and make the most of this day, which is GOD'S  blessing to us. Our fast-paced, high-pressured society today urges us to accomplish as much as we can as quickly as we can—so we can accomplish even more! 
Yes, GOD does have purposes and plans He wants us to fulfill, but He also wants us to enjoy and make the most of the gift of now—today!
Psalm 118:24
This is the day the Lord has made; we will rejoice and be glad in it.
Remember this day is our gift from our heavenly FATHER. It's our blessing from Him! 
Lamentations 3:22–23
It is of the Lord's mercies that we are not consumed, because his compassions fail not. They are new every morning: great is thy faithfulness.
Give Him all the praise and enjoy your day to the fullest!
Love & Blessings,
Pastor Bruce & Suzi Elman
L'Chaim Messianic Congregation
Lake Worth, FL (Lantana area)