Encouraging Words with Pastor Bruce & Suzi Elman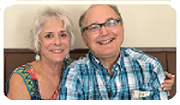 1 Peter 5:8 
Be sober, be vigilant; because your adversary the devil walks about like a roaring lion, seeking whom he may devour.
If we want to be victorious in our  lives, then we must never forget who our adversary is! The Bible is very clear that our enemy isn't a single little demon but rather a whole confederacy of evil spirits! How many times in the Gospels of Matthew, Mark, Luke and John did YESHUA cast out demons? Over and over again we read about Him and His disciples speaking with authority over multiple evil spirits. Why then can we read such accounts and praise GOD for His demonstrations of power and yet forget that those demonic forces are still active in our world today! 
The enemy is very busy right now in our current situation with the spread of the Coronavirus, putting panic and fear in much of the world through the help of the media! We need to remember that fear is from the devil. Our GOD has not given us a spirit of fear! We can't walk in fear and faith at the same time! 
This pandemic is a real test for the reality of our faith and the relevance of our doctrines!
Our sovereign GOD is always in control!
Satan lost at the cross and is a defeated foe; he only has as much power over us that we give him! 
Let's humble ourselves today, pray and seek GOD'S face! Our almighty GOD is bigger than any virus!
Love & Blessings,
Pastor Bruce and Suzi Elman
L'Chaim Messianic Congregation