Encouraging Words with Pastor Bruce & Suzi Elman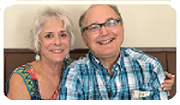 Decisions – they are constantly before us! You probably have decisions presently on your plate – some may be minor & some major! Regardless of size, they will impact your life and also the lives of others.
When it comes to choices, we need to pray and ask GOD what He has to say about it. GOD clearly says in His Word (Ps. 25) that He desires to lead our life and always wants to help us make the best choices!
One thing you can be sure of, GOD will never direct you to make a choice that is contrary to His Word. The Bible is the ultimate "road atlas" ever printed! The choice He wants for you is one that will lead to life and will have His fingerprints of peace all over it!
Psalm 25:4-5 "Show me Your ways, O Lord; teach me Your paths. Lead me in Your truth & teach me, for You are the God of my salvation; on You I wait all the day… "
Abba leads us gently; He never pushes or pressures us to do anything. His yoke is easy; His burden is light (Matt. 11:30).
Blessings,
Bruce & Suzi Elman
L'Chaim Messianic Congregation