Encouraging Words with Pastor Bruce & Suzi Elman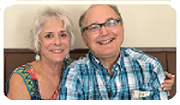 The power of the Gospel of YESHUA MESSIAH is Love; nothing else! It is the highest form of spiritual warfare that we can do. One believer, totally committed, dedicated and submitted to the love of GOD will make hell tremble! 
Imagine how great our warfare will be with lots of believers acting in love!
So, as believers, let's go to war on our enemy. Every single one of us needs to decide right now to declare war on selfishness! 
Let's declare war on thinking only of ourselves in our families, homes and even in our work place. 
Let's announce to Satan and his kingdom of darkness: "I refuse to just live for me and be a selfish, self-centered person!"
Let's declare that the love of GOD that is inside of us will shower upon others today everywhere we go.                                               
Romans 12:21
Don't let evil conquer you, but conquer evil by doing good.
Start today, living with purpose, and show the love of MESSIAH on purpose everywhere we go. 
Start by getting yourself off your mind and putting others first. Be willing to give yourself as a sacrifice, and start really loving people!
Love & Blessings,
Pastor Bruce and Suzi Elman
L'Chaim Messianic Congregation