Encouraging Words with Pastor Bruce & Suzi Elman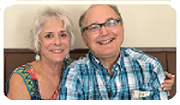 No man or woman is absolutely free; our verse today says we are the slaves of the one whom we obey (either to sin or to our obedience to MESSIAH). Because we are all born with a fallen nature (because of Adam & Eve) being the master of our own lives is the same as being enslaved to sin!
Our heavenly FATHER has an answer to this unhealthy situation – being submissive to Him! You might be thinking right now, "If I give the LORD control, then I lose control and that thought is scary, He could lead me somewhere I don't want to go!"
But, we need to stop and consider our LORD'S character and motive. He is Holy and sinless, He has infinite wisdom, perfect knowledge, and an external perspective and He loves you. And remember, He has the power to work all things out for your good (Romans 8:28).
Romans 6:16 Do you not know that to whom you present yourselves slaves to obey, you are that one's slaves whom you obey, whether of sin leading to death or of obedience leading to righteousness…
We can't attain sinless perfection while on this earth, but as we are in submission to Messiah Yeshua with each step of obedience – sin's hold on us will definitely lessen!
Love & Blessings,
Bruce & Suzi Elman
L'Chaim Messianic Congregation