Encouraging Words with Pastor Bruce & Suzi Elman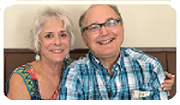 Are you at peace today? Nothing is worth anything if you don't have peace! Even having great wealth is no good without peace! You cannot put a price on the value of peace.You can spend your whole life trying to climb the ladder of success and it could consume you with pressure, stress and rob you of your peace, joy and time that should be spent with your family.

We are never truly successful unless we have peace. Peace comes from knowing who we are in MESSIAH YESHUA (the Prince of Peace) and having the peace of GOD, which surpasses all understanding
Philippians 4:6-7
Be anxious for nothing, but in everything by prayer and supplication, with thanksgiving, let your requests be made known to God; 7 and the peace of God, which surpasses all understanding, will guard your hearts and minds through Christ Jesus.                                    
Romans 14:17
For the kingdom of God is not a matter of what we eat or drink, but of righteousness and peace and joy in the Holy Spirit.
GOD wants to see us (His children) having our needs met & blessed in abundance & being in a position to bless others! But ABBA  never wants it to be a cost of exchanging our peace for it. Seek the prefect peace of GOD in all you do & always refuse to live without it!
Love & Blessings,
Bruce and Suzi Elman
L'Chaim Messianic Congregation