Encouraging Words with Pastor Bruce & Suzi Elman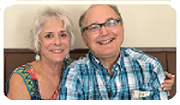 In our verse of the day, Timothy tells us that  a godly person who is content is in the very best place he or she can ever possibly be in! Joy doesn't come from having your circumstances in order and under control. It comes from what's in your heart!
The world is full of people who have what they think they want and they are still not happy nor content. Actually, some of the most unhappy people in the world are people who "have it all!"
Contentment is not about how much money you have, your position or title at work, your possessions or what social circle you belong to! True contentment comes from the heart and is worth more than all material things you could possibly accumulate in a lifetime!
1 Tim. 6:6
Now godliness with contentment is great gain.                     
Being content and satisfied is a choice!
There is no one happier than a truly thankful and content person who abides in GOD'S love! That's the secret to really finding peace and happiness in life. Are you abiding in God's ️ love?
With tons of prayers, love & hugs, 
Shalom! 
Pastor Bruce & Suzi Elman
L'Chaim Messianic Congregation