Encouraging Words with Pastor Bruce & Suzi Elman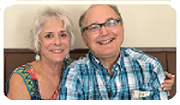 Ecclesiastes 5:10
He who loves silver will not be satisfied with silver; nor he who loves abundance with increase. This is also vanity. 
Happiness—just about every human being wants it! But for most people the happiness they actually experience is fleeting, like the shifting of the wind. Changing circumstances always seem to prevent true happiness from finding a home in their hearts. 
So what's the key to experiencing a life of true happiness? It may not be what you would expect. Is it really having a mountain of material possessions, a nice home or tons of money in the bank?!? As our Scripture of the day tells us, all that is vanity (meaningless)!
True happiness can only be found in humility—living life as a servant of GOD and others. 
So what is humility? It is freedom from pride and arrogance, true humbleness of mind, modest estimation of one's self-worth and a submission to GOD's divine will!
Let's look to YESHUA, the greatest example of a servant, always clothing ourselves with humility, getting our minds off of ourselves! GOD will exalt us in due time. Yes!, He will! "PTL!"
In Yeshua's Name. Amen. 
With lots of prayers, love & shalom,
Pastor Bruce & Suzi
L'Chaim Messianic Congregation