Encouraging Words with Pastor Bruce & Suzi Elman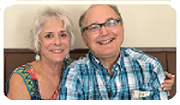 Are you a worrier? Well, it does absolutely no good! Worrying doesn't change one thing, and we waste time by being upset over stuff we can't do anything about—things only GOD can change. And He's not going to change them until we put our trust in Him instead of our flesh! Everything is always in GOD'S perfect timing.               
The Word tells us we can't add a single moment to our life by worrying.
"And which of you by worrying can add a single hour to his life?" Matthew 6:27
Yet, we still insist on worrying, which gets us nowhere. 
When we get upset over our circumstances, it takes a lot of emotional energy while wearing us out! It can even affect our health, causing lots of physical problems while stealing our joy, and all the while it still doesn't change a thing!
"Be anxious for nothing but in everything by prayer and supplication with thanksgiving let your requests be made to God." Philippians 4:6                         
We need to stop trying to fix things that only GOD can fix because the only one who will be clapping is the devil! 
Pray about it, and then by faith, wait for GOD'S perfect timing! Luv, JC
With lots of prayers & love,
Shalom!
Pastor Bruce & Suzi Elman
L'Chaim Messianic Congregation
2116 Lantana Road, Lake Worth, FL 33462