Encouraging Words with Pastor Bruce & Suzi Elman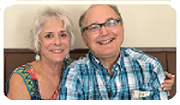 Godly wisdom can be defined as the capacity to see things the way the LORD sees them and to respond according to His principles. 
This will bring us inner peace and contentment!
Wisdom will always lead you to GOD'S best for your life. Godly wisdom teaches us how to choose our friends wisely, guides us in our finances, and shows us how to always be willing to forgive, and live our lives in a way that is pleasing to our heavenly FATHER! 
Wisdom will lead us to make right decisions when difficulties come our way. Sometimes we would like to say yes to situations when GOD might want us to say no. Wisdom will show us the right way to go.                                                       
Proverbs 3:13
Happy is the man who finds wisdom and the man who gains understanding.
Wisdom is our friend, helping us at all times not to live in regret. It would be very sad to look back on our lives and feel regret about what we did or didn't do! 
Let divine wisdom guide you today to make choices that you will be blessed with in the future!
Love & Blessings,
Bruce and Suzi Elman
L'Chaim Messianic Congregation