Encouraging Words with Pastor Bruce & Suzi Elman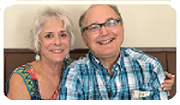 Believers can have wrong desires! In fact, if we work hard enough—pressing ahead of GOD'S timing, manipulating our circumstances, we may be able to make those wishes reality! But, anything gained apart from GOD'S will prove to be empty and disappointing!
There is nothing wrong with having desires, but we need them to match what GOD has planned for us! Desires we may have that are contrary to His purpose for our life can corrupt body, mind or spirit and can also cause us to fall into temptation (1 Tim. 6:9)!
Our desires should be backed up with two vital questions;
1) Does GOD want this for me?
2) Can I follow MESSIAH and this objective at the same time?
Psalm 145:18-19 The Lord is near to all who call upon Him, to all who call upon Him in truth. He will fulfill the desire of those who fear Him; He also will hear their cry and save them.
The Ruach HaKodesh was given to us by GOD for wisdom and discernment! Pray and ask the Holy Spirit to ensure you that your desire is within GOD'S will and plan for your life.
Love & Blessings,
Bruce & Suzi Elman
L'Chaim Messianic Congregation