Encouraging Words with Pastor Bruce & Suzi Elman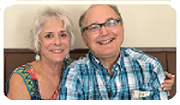 When GOD created the heavens and the earth, He wasn't just trying to keep busy or do something constructive with His time! Look around, everything you see, He created it all just for you. All of creation is an expression of His true love for us!
Stop and think every time you see the sun rise each morning or watch the rain falling from the sky to water all the earth. Take a look at the green carpet of grass and all the array of beautiful flowers in bloom; it's all for us to enjoy! 
In our Scriptures today, the apostle Paul knew how powerful and important a revelation of GOD'S love is!
Ephesians 3:17-19
Then MESSIAH will make His home in your hearts as you trust in Him. Your roots will grow down into God's love and keep you strong. And may you have the power to understand, as all God's people should, how wide, how long, how high and how deep His love is. May you experience the love of MESSIAH though it is too great to understand fully. Then you will be made complete with all the fullness of life and power that comes from God.
Meditate on these Scriptures today and ask the Holy Spirit to reveal to you this awesome love ABBA has for you, and receive the fullness of everything GOD has for you! Wow! Yes!
In Yeshua's Name. Amen
Love & Blessings,
Bruce and Suzi Elman
L'Chaim Messianic Congregation