Encouraging Words with Pastor Bruce & Suzi Elman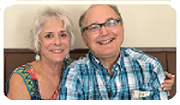 We know that our relationship with ABBA FATHER is growing when we can see our true nature clearly. As the Holy Spirit gains greater control of our life, we become increasingly aware of our own sinfulness and weakness. We realize we cannot live the Messianic Jewish life on our own.

We know we're growing when our response to sin is quick (conviction brings about immediate and genuine repentance)! Ignoring our sin is rebellion against GOD and disobedience stops spiritual growth!
We know intimacy with FATHER GOD is deepening when we guard our prayer time! Time spent in prayer and scriptural meditation is a must for a maturing believer.
Philippians 2:15 …that you may become blameless and harmless children of God without fault in the midst of a crooked and perverse generation, among whom you shine as lights in the world.
Seeing spiritual growth within ourselves should give us joy! Why? Because our spirit is looking more and more like that of our perfect Savior, MESSIAH YESHUA (our soon coming King)!
Love & Blessings,
Bruce and Suzi Elman
L'Chaim Messianic Congregation