Encouraging Words with Pastor Bruce & Suzi Elman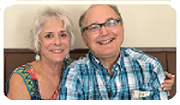 Our faith is set apart from every other religion (because ours is relationship, not religion) in the world!
Our verse today is the key (Revelation 3:20) to that. In this verse, a beautiful picture is painted for us of Messiah YESHUA , the Savior of mankind, patiently knocking on the door of our hearts!
In other beliefs, this picture is different; it would be you andI knocking on the door of heaven, trying to get in by our good works! 
But in today's verse, YESHUA is the one who pursues. He stands there knocking, and He keeps on standing there knocking until we come to Him and receive His sacrifice (cross) as an atonement for our sins (past, present, and future). He is the only confirmation for our ticket that we need to our destination (heaven)! We can't get in without it!
Revelation 3:20
Behold I stand at the door and knock. If anyone hears my voice and opens the door, I will come into him and dine with him and he with Me.
Is YESHUA standing at the door of your heart right now? Remember the door knob is on your side! YESHUA is a gentleman; He will not force His way into our lives. We must welcome Him; He's patiently waiting for your invitation. Won't you let Him in?
Love & Blessings,
Bruce & Suzi Elman
L'Chaim Messianic Congregation