Encouraging Words with Pastor Bruce & Suzi Elman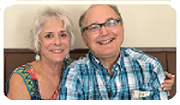 At times people will say "I've made YESHUA a part of my life," but that's wrong, because Yeshua can never just be a part of our life! He must become our whole life! He should be our central focus, everything should revolve around Him.
For believers, the essence of living is to walk in child-like obedience to YESHUA! That means we walk by faith while depending on the Ruach Hakodesh and the divine grace of ABBA FATHER!
Yeshua tells us to seek first His Kingdom and His righteousness and everything else will be added to us. We need to flush our minds of anything that doesn't fit with His priority. This is accomplished by the renewing of our mind through the Word of GOD (Rom. 12:2).
Luke 12:31 "But seek the Kingdom of God, and all these things shall be added to you… "
As we prioritize (putting the Kingdom of GOD first), we can rest assured that Adonai Yireh (our Provider) will bring to pass anything and everything we will ever need!
Blessings,
Bruce & Suzi Elman
L'Chaim Messianic Congregation