Encouraging Words with Pastor Bruce & Suzi Elman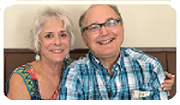 If you could ask for only one thing, what would it be? Maybe a new car or a brand new house, or perhaps a new relationship, etc.?
Yet, the very one thing that we all really need is to seek and find YESHUA and to really get to know our almighty GOD!
Each one of us has a God-shaped hole on the inside and nothing can fill it except GOD Himself! No matter what else we try to fill it with, we will remain empty and frustrated. King David (a man after God's own heart) tells us that more than anything else he wanted to know GOD and to seek Him and dwell in His presence! Let's read together what King David said.
Psalm 27:4 "One thing I have desired of the Lord, that will I seek; that I may dwell in the house of the Lord all the days of my life, to behold the beauty of the Lord and to inquire in His temple…"
Investing our life in GOD is the very best thing we could ever do! Ask yourself this question today: "Do you really know your heavenly FATHER or just know of Him?
Love & Blessings,
Bruce and Suzi Elman
L'Chaim Messianic Congregation