Encouraging Words with Pastor Bruce & Suzi Elman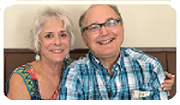 When facing hard decisions, do you pay attention to your conscience? Is it wise to trust this inner voice?
GOD gave every one of us "internal moral compass!" Our conscience is a divine alarm system that warns us of oncoming danger. Its primary purpose is godly protection and guidance. But because of sin, we can be led astray. That's why it's important to understand the difference between following your heart and allowing a clear conscience to help with decisions.
If you have allowed GOD'S Word to permeate and transform your thinking instead of the world's way of thinking, then that inner voice is likely trustworthy! (Rom. 12:2 And do not be conformed to this world but be transformed by the renewing of your mind, that you may prove what is that good and acceptable and perfect will of God… )
What has been the greatest impact on your belief system – truth of scripture or the world's standard of right and& wrong?
Our ABBA FATHER knows what is best for us! He gave us a conscience to aid us in making wise decisions in life. Praise His mighty Name!
Blessings,
Bruce & Suzi Elman
L'Chaim Messianic Congregation