Encouraging Words with Pastor Bruce & Suzi Elman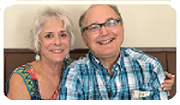 In the natural, many things are impossible but in the supernatural realm with GOD, there is nothing impossible!
GOD wants us to believe for great things—make big plans—then expect Him to do things so great that you will be left with our mouth hanging open in awe! We need to be bold in our asking, nothing is too big for our sovereign GOD!
James 4:2 tells us we have not because we ask not. When our dreams seem overwhelmingly big and we do not see how to accomplish them, we need to keep in mind that even though we do not know the way, we do know the Way-Maker! His name is GOD, the Great I Am, the Alpha and the Omega, the Beginning and the End!
(Ephesians 3:20… Now to Him who is able to do exceedingly, abundantly above all that we ask or think, according to the power that works in us… )
Let's be encouraged today to stretch our faith beyond our highest prayers, dreams, hopes, and desires and then watch them unfold!
Love & Blessings,
Bruce & Suzi Elman
L'Chaim Messianic Congregation